Bucharest Christmas Market 2014 opens its gates!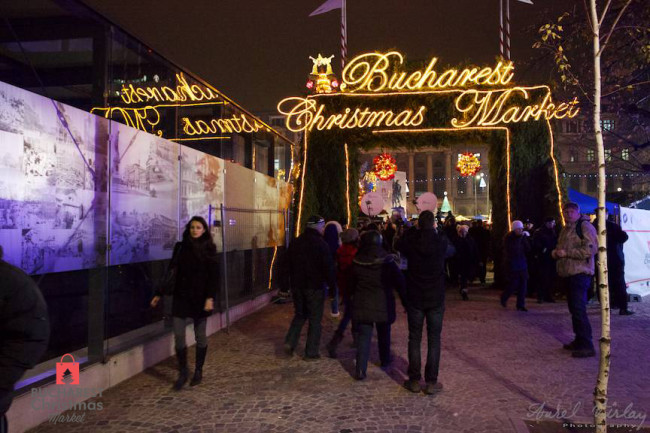 November marks the start of Christmas bringing with it a whole host of Christmas markets in Europe, and Bucharest makes no exception.
As of Saturday, November 29th, for a month, between 10:00 and 22:00, Bucharest official Christmas market opens its gates to all who want to enter the Christmas atmosphere and to enjoy, together with their loved ones, folk music performances, Christmas carols, well-known groups, winter holidays traditions and customs from all areas of the country.
Bucharest city Hall through CreArT – Centre for Creation, Art and Tradition organizes Bucharest Christmas Market, Bucharest's official Christmas market, for the third consecutive year now, in two symbolic areas of the Romanian capital, University Square (statues esplanade) and Cismigiu Park.
On Saturday, on St Andrew's eve, the Christmas lights will be switched on, and the capital's boulevards will be decorated with thousands of lights.
Bucharest Christmas Market is a yearly event and it was part, since its first edition, part of the international network of European "Christmas Markets", being an official member of it. The event addresses all audience categories, entrance being free of charge.
One hundred fairy-tale huts
The 100 fairy tale huts at the Bucharest Christmas Market will turn downtown Bucharest into a Winter Holidays Magical Village decorated with 14 tons of fir tree branches, as well as guarded by the 16 meter Christmas tree, decorated with Christmas candy, bells and lights.
Thus, for a month, at the Bucharest Christmas Market, the beauty fans may acquire traditional objects, painted ceramics, carved wood, religious icons and embroidered fabrics, traditional costumes and masks, wooden toys and musical instruments, manually painted decorations, fir tree wreaths, chains and scented candles.
Also, the visitors may indulge in Romanian traditional food products, such as sponge cake, boiled wine, ginger bread, steamy pies, jam, sweets, honey, syrups and can buy special gifts for their loved ones.
If you are looking for something unique for your loved ones, some of the craftsmen present at the event will hand-make several objects and decorations on the spot, these workshops allowing the audience to rediscover the beauty of art and Romanian traditions and customs.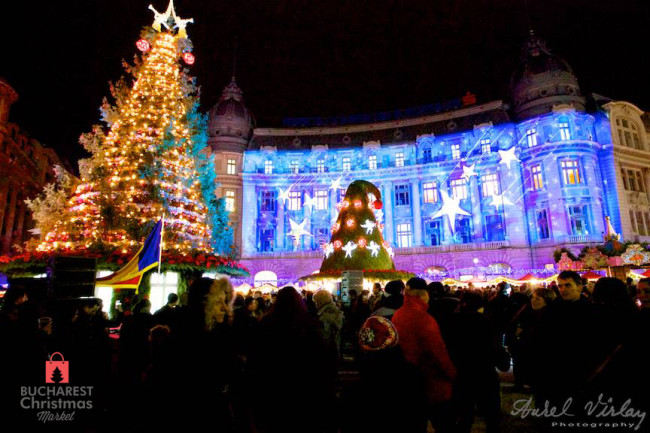 Surprises for children
Children from Bucharest and not only are expected at the market near the University where they will meet Santa Claus. Until Santa arrives, in his cottage, children will joyfully meet elves and other fairy tale characters. Also, children might leave their letters for Santa in a specially designed mailbox.
Artistic programme
The stage of the Bucharest Christmas Market will host a series of performances bringing together renowned artists of all music genres: folk music ensembles, children's groups, Christmas carollers groups, traditions and customs ensembles from around the country, as well as well-known groups.
The University Square stage will receive artists such as: Mandinga, Connect-R, Lora, Monica Angheland Nico, Cornelia and Lupu Rednic, Floarea Calotă, Sofia Vicoveanca, Gheorghe Turda, LaLa Band, Ducu Bertzi, Gheorghe Gheorghiu, Simbol choir,Vasile Șeicaru, Loredana and Horia Brenciu. This year's novelty is the December 1st concert, dedicated to the Romanian National Day.
Charity campaign
Bucharest Christmas Market has a social component each year.
The Christmas Market hosts the "Be kind-hearted and give! You can be Santa, too..." a campaign, organized by Bucharest City Hall through CreArT, in a partnership with SOS SateleCopiilorRomanian Association.
Visitors are invited to the SOS hut to support SOS SateleCopiilorRomania and to offer the 240 children a family where they can grow, develop and enjoy the beautiful moments of childhood.
The SOS hut will host a "wishes fir tree" decorated with stars, on which children wrote to Santa their wishes. Visitors who want to get involved choose a star from the fir tree and make a donation to less favoured children in Romania.
Also, visitors can donate toys and books daily, until December 26th2014, at Santa's cottage where the organisers have placed a special box for the charity.
About SOS SateleCopiilorRomania
SOS SateleCopiilorRomania today takes care of and supports a number of 1000 children, that have lost or are about to lose the care of their biologic parents. With a 65 year international history and a 24 year history in Romania–"we are offering a loving family to each child". SOS SateleCopiilorRomania is a member of SOS Children's Villages International, a charity network present in 133 countries.

Watch the preparations for the Bucharest Christmas Market at: www.youtube.com/watch?v=BdUSATg3w0g
More info at: www.bucharestchristmasmarket.ro
Photo credits:bucharestchristmasmarket.ro