While in Bucharest, you might need to buy something, such as clothes or shoes, a perfume, a new make-up kit or a toy for your kid. The best idea would be then to go shopping in a mall or a larger commercial centre in Bucharest, as you will find plenty of stores and choices of products and brands.
So, if your shopping intentions are not very targeted or if you are not looking for a specific brand, save time and choose one of the malls in the city instead of walking around on Bucharest's commercial arteries, such as Calea Victoriei, Magheru Boulevard or Calea Mosilor.
We hope this article will help you choose the Bucharest mall which fit best your shopping, entertainment or relaxing needs.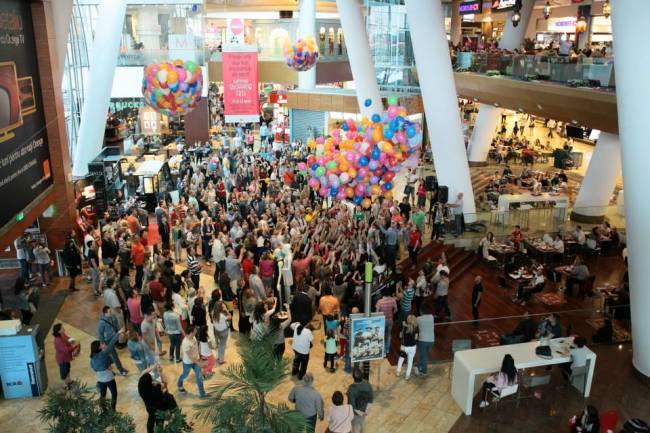 event in Baneasa Shopping City (source: Facebook)
Central and downtown malls in Bucharest
It would be cleverly to choose a central located commercial gallery, such as Unirea Shopping Center, which is situated in downtown, near the Old City (Old Town) in Unirii Square of Bucharest (metro station Unirii).
Here you can find large fashion stores, especially in the ground floor, such as H&M, Zara, New Yorker, etc., as well as some well-known fast-food chains such as Mc Donald's and KFC.
The variety of shops is quite large, not exhaustive though, but chances are to find what you are looking for in a short period of time.
However, if shopping is one of your favourite activities and you are the type of person who likes to check every store before taking a buying decision, you might want to try Bucharest's larger shopping mall, which is AFI Palace Cotroceni, situated in the western area of the town, not far from the city centre (20 minutes by car from Universitatii Square). You can reach it within half an hour if you choose public transportation (bus or metro). Most of the brands present in Romania have opened shops in AFI Palace Cotroceni, so you will definitely find here the best shopping options in Bucharest.
One disadvantage though is that AFI mall is quite noisy and crowded, with its entertainment area attracting many people on a daily basis. That is why another recommendation could be Bucharest Mall (Bucuresti Mall), which is also close to the city centre (15-20 minutes from Unirii by car), but there is only a bus line from the centre stopping in front of the mall. Bucharest Mall is the first mall opened in Bucharest, with a good brands mix and a less invasive entertainment area.

Sun Plaza mall in Bucharest, 10-15 minutes from city centre by underground (source: Sun Plaza website)
If you prefer the underground transportation, a very decent mall is Sun Plaza, situated in the southern Bucharest. You have a metro station which connects directly with the mall commercial gallery (called Piata Sudului), so it is very easy to reach during winter time or during the very busy working hours which are making traffic very difficult in Bucharest. You can reach it within 10 to 15 minutes from Universitate or Unirii Square by a direct underground line.
Northern Bucharest malls – upper class shopping destinations
If your accommodation is in the northern part of Bucharest, we recommend you Baneasa Shopping City, situated in a large shopping park including IKEA store, Carrefour hypermarket and a DIY store. The mall has a good selection of fashion brands and the targeted catchment area of the commercial centre is above average in terms of revenues, so the atmosphere is rather distinguished and more civilized than in other Bucharest malls.
The newly opened Promenada mall, situated in Floreasca-Barbu Vacarescu area, Bucharest's business district with lots of office buildings, could be another option for a less crowded, classy mall. It is also situated in the north of Bucharest, close to Aurel Vlaicu metro station. Taking into consideration it is the corporate and yuppies mall, you might find some expensive brands here, together with the most common and popular fashion stores.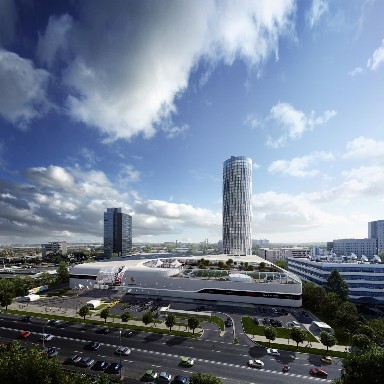 Promenda Mall in norhtern Bucharest (source: Promenada website)
Other malls in Bucharest
The other malls in Bucharest are Plaza Romania (situated close to AFI Palace Cotroceni), which is now undergoing a strategy change in order to target mostly the families with children, a very large mall also with most of the important brands and Liberty Center, a smaller mall, also situated in the proximity, but in a southern-western location, as well as some larger commercial galleries such as Orhideea Commercial Centre in Grozavesti area, Militari Shopping Center and the Fashion House outlet on the western exit from Bucharest to the A1 Highway.
Entertainment and cinema in Bucharest malls
Most of the shopping malls in Bucharest have an entire floor dedicated to restaurants and cafes, where you can find lots of Romanian and international brands of fast-foods, coffee shops and not only.
The food-court area in the malls is usually "spiced" with different entertainment services for children and not only, such as artificial ice rinks, casinos and gambling areas, amusement parks, laser tag arenas and even more services, such as the 140 m roller coaster, the small electrical boats on the indoor artificial lake or the underground carting trail in AFI Cotroceni mall.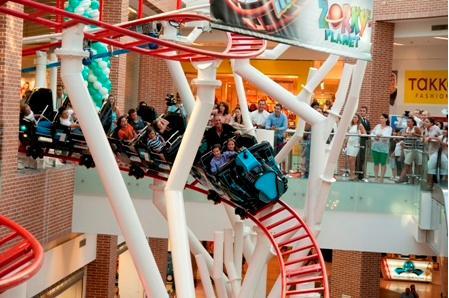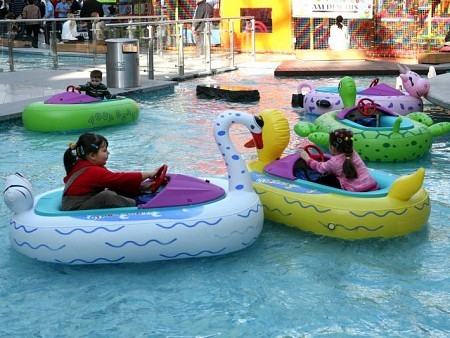 entertainment area in AFI Palce Cotroceni (source: AFI website)
Lately in Bucharest, the cinemas within the malls (multiplex) have attracted a lot of movie lovers, especially for American blockbusters and genre movies, due to the comfort of the new cinema halls, as well as for the other facilities in movie technology, such as 3D and IMAX.
The most well-known cinemas within malls are Hollywood Multiplex (in Bucharest Mall), Grand Cinema Digiplex (in Baneasa Shopping City), also with a special VIP screening hall, Movieplex (in Plaza Romania mall) and Cinema City (present in AFI Palace Cotroceni, featuring special IMAX hall and in Sun Plaza)
Services in malls
Conceived as places where you can spend an entire day, apart from shopping and having fun, the malls in Bucharest also include wide services areas, where you can find beauty salons, hairdressers, banks, florists, dry-cleaning, travel agencies or gyms, as well as many other useful service providers.
Sometimes choosing a mall and shopping could be not that easy, especially if you are in a foreign city and have limited time. Locals are the most reliable source of information, so if you want to find out multiple opinions about shopping in Bucharest, choose your profile and find tips from the locals matching your lifestyle!