Interesting Times Bureau - alternative guided tours to discover the city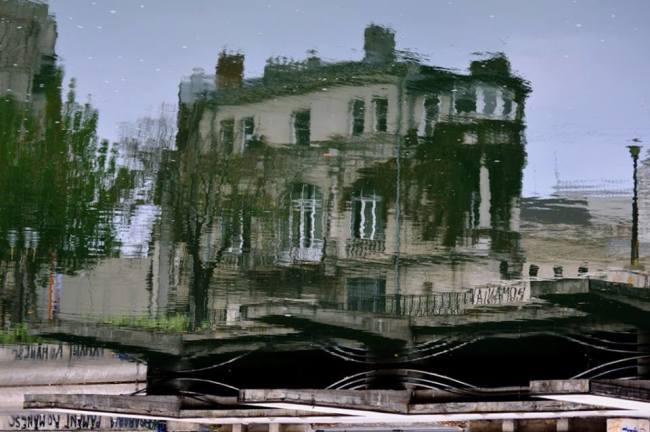 Bucharest is indeed a city of contrasts which for a tourist may seem ugly and dull at first, but if you are willing to give it a chance and discover it, the strange and hypnotic beauty of the town will conquer you forever.
Interesting Times Bureau is a project that we love because it presents, to the Bucharest tourists and locals as well, the real and unbiased part of the city, the part that makes a town alive and not just another "Lego land" trap for tourists.
Doru Răduţă, Interesting Times Bureau Managing Partner, talked with us about the project:
B.T: How did the story begin with you walking around with tourists in Bucharest?
D.R: I had three main starting points actually:
a. The inspiration I got from Cristian Vasile's photos (Bucuresti Optimist) Editor's Note : Romanian photographer in love with Bucharest .
b. My experience with walking a lot of foreign friends around the town for almost 10 years
c. Bumping into bewildered backpackers with maps in their hands, wandering about aimlessly on Calea Victoriei.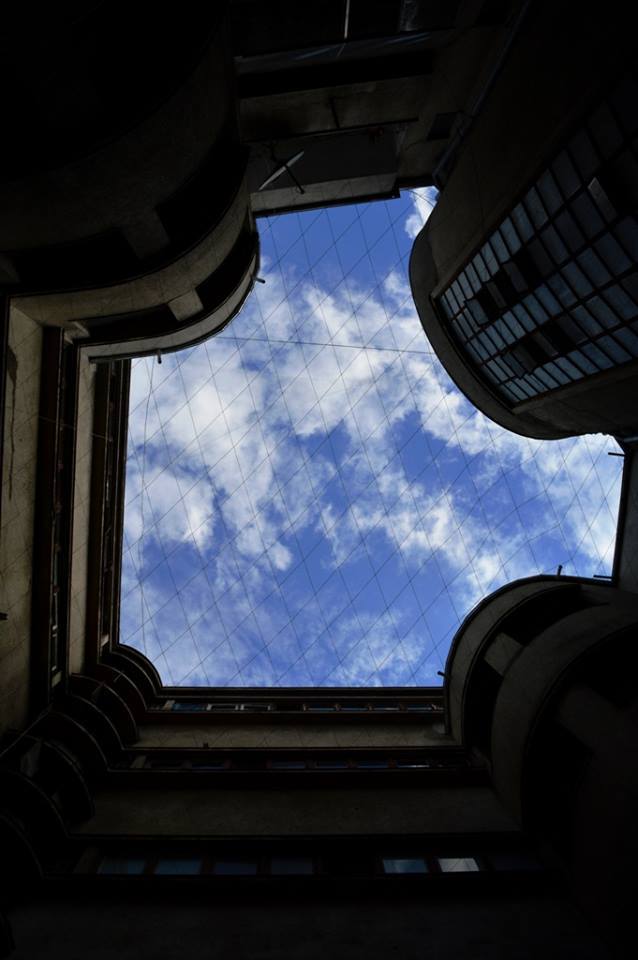 B.T: What is the aim of Interesting Times Bureau?
D.R: To take tourists out the main tourist circuit and out of Old Town and show them the real Bucharest with it's lovely neighborhoods, weird places and wonderful people.
B.T: What is the specific of your Bucharest tours?
D.R: What is valid for all of them is that we take things slow. We never hurry and we allow plenty of time for breaks and getting lost off the tour path. "Slow travel for fast people" is our motto.
B.T: Why doing customized Bucharest tours? What is different?
D.R: Because being a tourist is so last century. People want more these days. They want authenticity, personalization and interaction with the local community. They want to have a local friend walking them around the city. And Bucharest is actually the ideal place for all this.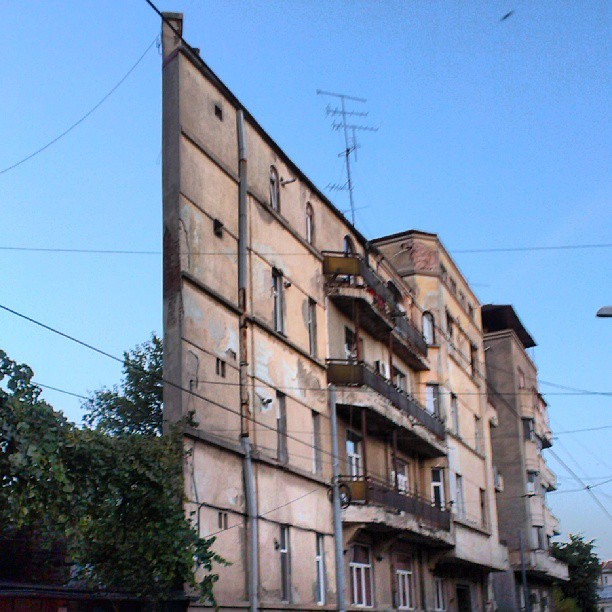 B.T: How did you choose the routes and how did you form the team? Who are the people behind the project?
D.R: We looked into alternative tourism from London to Budapest and tried to adapt their offer to Bucharest. Afterwards we started calculating the routes so that I would give us enough time to see as many objectives in a day or half of day. The hardest thing was when we had to take stuff out simply because time is not enough. That's why we change the routes regularly…just to keep things interesting 
As for the team: we tried to find the best people to partner up with. Interesting Times is a collective of likeminded people keen on showing guests from abroad a very different take on Bucharest.
We have: very experienced guides that know Bucharest inside out, artists, photographers, architects, musicians, activists and many more. We have a detailed presentation of each one of them on their respective tour page and on Partners page, on our website.
In fact our core strength is the local community. When people choose one of our tours they get much more than places and facts. They get in depth interactions with the locals.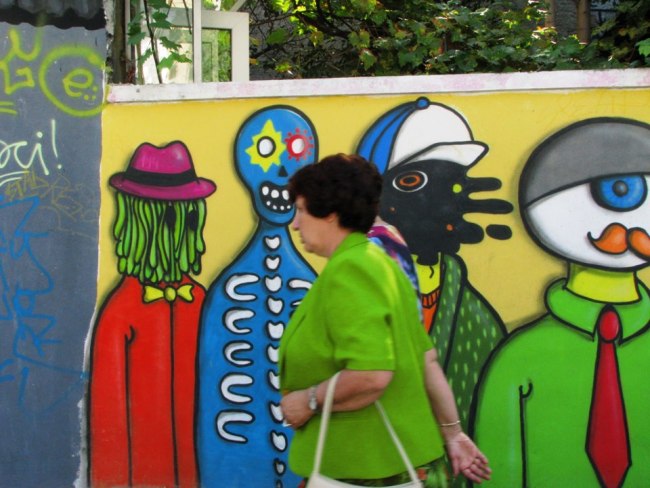 B.T: What is the tourists' reaction generally?
D.R: A large number of our guests says they want to move to Bucharest after going on one of our tours. True story!
B.T: What are the things they do appreciate?
D.R: The great diversity of the city. Its mixed history, its mixed arhitecture, the fact that you can find a perfectly quiet, charming spot just 2 minutes away from the busiest boulevard. How green things are around here. ( The ivy on the houses). The friendliness of the people.
B.T: What are the places they found the most attractive?
D.R: Plantelor Street, Delfinului, Vacaresti Delta, Universul Palace, IOR Park, Dumbrava Rosie.
B.T: What kinds of tourists join you usually and from what countries?
D.R: Usually we have mostly young people, backpackers or people that never go on organized tours. Our communication is based on exactly this: Interesting Times Bureau is for the independent traveler, for people that rent places on airbnb, are not afraid of a little adventure and are sure that Romania is not the wild East.
Most of them are from Canada and USA, then we have people from Germany, Austria, Russia, Ireland, The Netherlands, Scandinavia, France, UK, Mexico and last but not least we had a very interesting guy from Malta.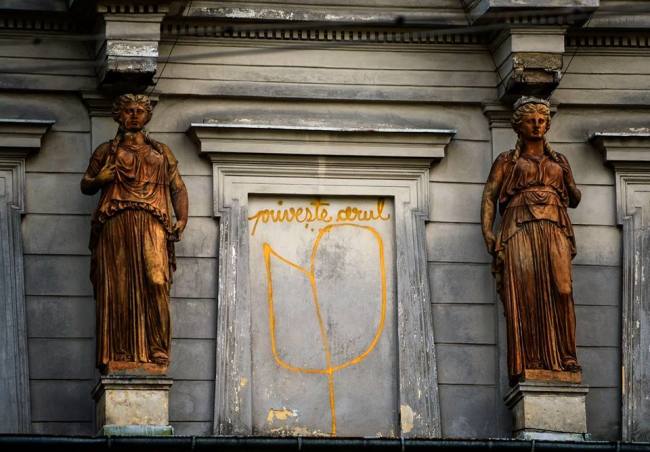 B.T: What is the most interesting story experienced by now within this project?
D.R: I can't say it on the record, sorry. But I can reveal that we are doing an informal survey among our guests to see if they consider spritz acceptable or not. It's very funny to see their reactions. So far we have only found one German, who loves spritz and does not like beer. We made her an honorary Romanian citizen because of that. (Editor's note: Spritz= Drink obtained from mixing wine with soda or mineral water.)
B.T: How is your Bucharest?
D.R: Changing all the time. Sometimes for the better sometimes for the worst, but it's very dynamic in a strange, still way.
B.T: Reasons why Bucharest should be visited in one phrase.
D.R: Street art, Abandoned places, Art Galleries, Belle Époque, Architecture, Summer Gardens, Communism, French heritage, Raw cuisine, Music, Pop-up party, Photography, Urban Delta, The Balkans, Slow Tourism, DIY, Street food discover all that and more ...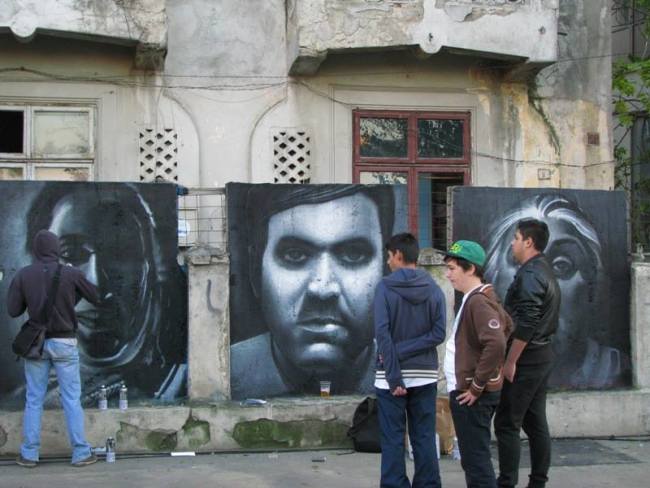 B.T: How much is a tour and how are tourists getting in touch with you for booking?
D.R: Prices vary but one tour is around 20 EUR. They can find us on Facebook, or just by typing Interesting Times Bureau in Google. Also our brochure is present in almost 60 locations in Bucharest (boutique hotels, hostels, airbnb apartments, cool hangout places).