Although not geographically part of the Balkans, Romania's culture is deeply marked by this heritage, Bucharest being in many aspects a typical Balkan city. It comes as no surprise then that the capital hosts the 4th edition of the BalKaniK!Festival, no doubt the most colourful of all musical events taking place this autumn in Bucharest.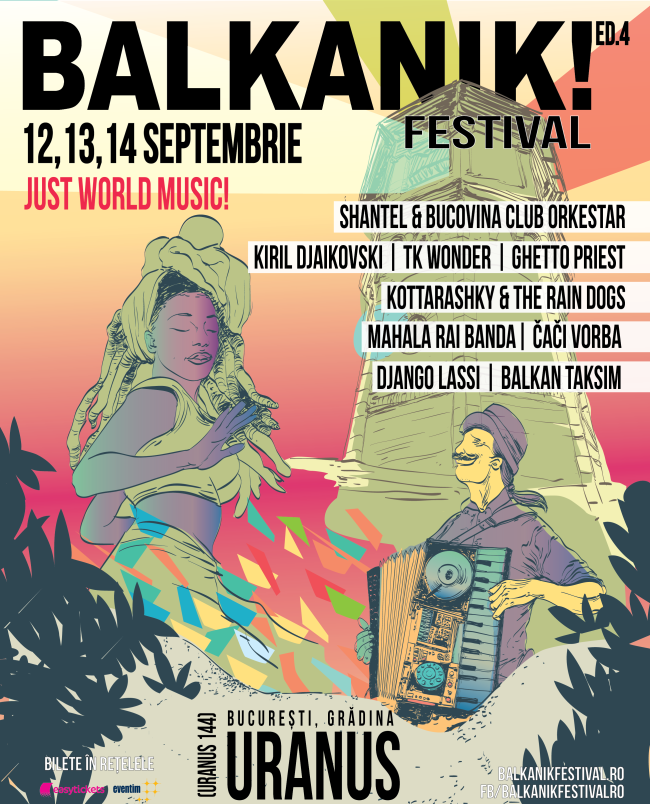 Shantel& Bucovina ClubOrkestar, ČačiVorba, DjangoLassi, Kottarashky and The Rain Dogs, MahalaRai Banda and KirilDjaikovskift TK Wonder & Ghetto Priest will heat the atmosphere of the festival in one of the hidden spots of the city, the Uranus Garden.
After three successful editions, Balkanik! Festival returns for a fourth time, on September 12, with three days and three nights of explosive concerts and insightful arts &crafts workshops, at Uranus Garden, a magical hidden courtyard in the heart of Bucharest, surrounded by surreal architecture from the 19th century which survived the communist planning of the city in the 1980s.
The festival is organized by Metropolis Cultural Association who this year will expect around 12 thousand people from all over Romania and many tourists from European countries, especially France and England, to attend and enjoy the unique sounds brought to the main stage: electro-gypsy swingcore, gypsy fusion, brass music andBalkan-psychedelic. It is a festival where you can find in one place jazz lovers, ravers, globe trotters, couchsurfers, families with kids.