Interbellico is a small Italian bistro in the old but non-commercial centre of Bucharest (not THE Old Centre or Old Town, as usually displayed by the Bucharest city guides!), situated on a residential street with private villas and small buildings.
THE ATMOSPHERE
Entering Interbellico on a lazy afternoon, or even a mid-week evening will bring you the atmosphere of a warming home! You won't hear the new pop rock songs nor the traditional "manele" (gypsy songs about money, love and enemies); there is also no chance to hear that "ambient" music released by some smart marketers in order to eat your designed food in a vogue manner… you'll only hear old-enough-to-remember-your-childhood Italian songs and sometimes "Radio Romantic", a radio channel broadcasting music from the eighties. And very important: you will still have room to have a conversation – I simply hate food places with loud music! The music simply harmonizes with the cozy warm design, old-fashioned wooden and fabric walls, together with old photos of ancient Bucharest.
FOOD, SERVICE AND PRICES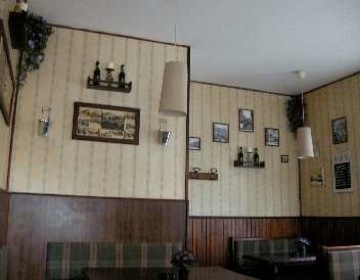 Eventually you'll order… the owner is always present there supervising the kitchen and the table areas (he even serves you nowadays) and from my experience I can tell he's a nice guy (I trust everything is going as it should be in the kitchen as well…). I usually order Bolognese pizza (in the late years I found out how to make it spicier – asking for the owner to add plenty of pepperoni to it - so it became the best pizza ever tasted in Bucharest!). If you are into pizza, pasta, soups and salads – you just hit the place! Good for a group under six – as tables are large and have two wooden benches easily accommodating 4 to 6 people. And another important detail – it is not a beer branded pub – that means you have Romanian beers from several producers to choose – I hate branded places where you only find a range of beers from a single producer, usually the wrong but richer one! Prices are good, around 4 Euros for a pizza, big enough to suit even the most hungry of your friends. If you have a Bucharest guide, you are hungry and you want to take a deep breath in a quiet place just before starting to dig around for other Bucharest wonders, ask your guide to take you there. If not, check this site for the address; it's really easy to get there from the Universitate Square.
Interbellico is a place already tasted by Bucharest Tips team. If you are a gourmand, or an old-fashioned, a safe and cozy person or a lazy bones type of guy, an experimentalist or just a hungry hipster, Interbellico could be a good choice for you.