This week Bucharest is waiting for you with art shows, lots of punk and rock concerts, a legendary Gypsy brass orchestra and great tips for spending quality time with no /less money. If you are on extra budget, add on your list two great concerts @ Control club, MICHAEL GIRA (Swans) solo (on Wednesday) and MIKE WATT (IGGY POP & THE STOOGES) & THE MISSINGMEN (on Thursday).
Have fun!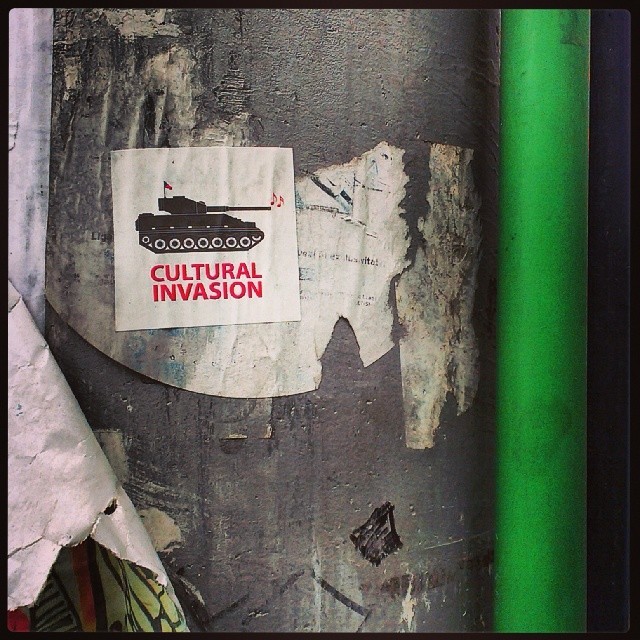 Monday March 24
If 11 am is not early for starting your Bucharest trip, you have a meeting with Guided Bucharest for a lovely free guided tour of Bucharest historical centre! Sightseeing with friendly and cheerful guides is a good start for getting to know Bucharest. Here are some highlights of the tour: Stavropoleos Church, Old City Centre, Romanian Atheneum, Manuc's Inn, Palace of Parliament. They will also provide helpful information about the city's nightlife, culture, etc.
Later on, get a punk and hardcore evening with two German bands: CONTRASTS & Off The Hook. Entrance fee: 15 lei (EUR 3.5) in Bucharest's underground venue Question Mark.
Tuesday March 25
What do you think about a Bucharest art galleries tour? It is free and you will also have the chance to discover Bucharest's vintage look while mapping the historical city centre, its beautiful old villas and quiet streets. Here is the list of some art shows taking place this week:
Unattended Ceremony by Cristian Răduță @ 418 Contemporary Art Gallery (sculpture, installation, solo show)
GEMMA by Ella Popa @ Galeriile Williams (painting, installations, solo show)
USE AT YOUR OWN RISK @ Victoria Art Center (interactive art, group show)
"Phantasmagoria" by Raluca Arnăutu @ Anaid Art Gallery (drawing, solo show)
Experiment by Cosmin Marinescu @ Modelier (Ebru painting, permanent exhibit)
"De_păşire" (Over_coming) @ MORA Art Centre (group show)
Hârş (Scratch) by Ana Kun & Horațiu-Christian @ Atelier 030202 (drawing – interactive installation)
Wednesday March 26
Discover one of the boldest contemporary art spaces in Bucharest and mingle with the artsy Bucharest crowd. AIURART is hosting a new art show opening today, starting from 7pm: NOTHING OP.2, by Anca Mureșan and Ion Grigorescu.
Today is the opening of the Bucharest International Film Festival (BIFF), a good opportunity to check some fresh Romanian movies if you are a film lover.
Thursday March 27
If it's THURSDAY, it's DISCOUNT PARTY @ Elephant Pub, free entrance and half prices for drinks (for instance long drinks are 6 lei – less than EUR 1.5!) Party w. hip hop, rock, reggae, drum'n'bass, dubstep and indie. Young crowd, nice atmosphere.
Friday March 28
From 5 pm go in the park to listen to 12 Romanian newcommer rock bands for free. Line-up: New Age// Kamen// Ten Times Treason// Celestial Gronds// Distorsion// Rock Incorporation// Amberdawn// Kerosen// Drowned in Sins// Luni la Teatru// Vespera// INT.ACT
Saturday March 29
If you saved your money this week following our tips (!), make an investment. With less than EUR 10 (40 lei) you have the unique chance to listen to FANFARA CIOCARLIA live, a 24-legged brass beast whose eastern funk groove has torn up halls and festivals across the planet. Be there at 10.30 pm @ Eden club.
Sunday March 30
A good day for a sunny walk to Fabrica, a special all-in-one venue. Drink a fresh on the terrace, take the pulse of the urban culture and starting 5 pm check in to ALT FEST - Romania's first Alternative Festival (Tattoos, punk-rock music, piercing, choppers and more…)