Later edit: Ceai dansant is permanently closed.
We just hit the most unexpected spot in the Old Centre of Bucharest. As we were swimming in the crowd, through the noisy terraces on Covaci St., we saw a retro sign on the wall: "Ceai Dansant" (Dancing Tea).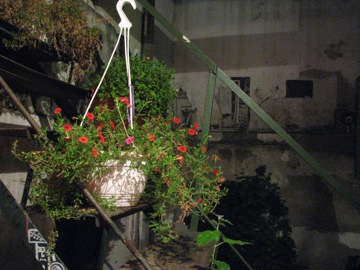 Only a few chairs be hind a table and a board with a chalk written message: "Terrace inside". So we entered through a "rabbit hole" and like Alice in Wonderland we discovered a parallel world where the tumult of the Old Centre disappeared like magic. Passing through the dark corridor looking like a deserted backstage you still get no hints about your trip. First stop: a small room with two sofas guarded by Jim Morrison's portrait. On the right side a rounded sofa we imagined the perfect place for the famous Alice's Caterpillar to smoke its "joint" in a deep meditation…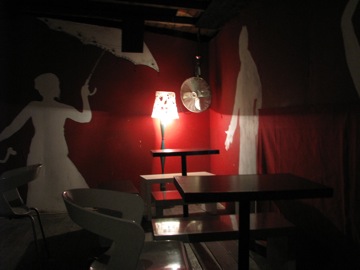 But still, where is the terrace?
As we entered the second room, things were getting clearer, as a chill trip-hop music floating along the corridors, started to give us a good vibe (great playlist all evening, by the way!). The last room and the most spectacular, split up by a kind of French window revealed the terrace. Old wooden floor, people laying on big pillow-chairs, a place where you feel like taking off your shoes and daydream. The terrace opened on a strange view: the inner belly of the Old Centre, half ruined, half mystery, 100% Bucharest underground spot.
Ceai Dansant is a place already tasted by Bucharest Tips team. If you are an experimentalist, if you are looking for a cozy, lazy evening relax in the middle of the crazy streets of the Old Centre of Bucharest or if you just want a place with good vibes to start your night trip, Ceai Dansant may be the place for you.