Poetrip is one of the bands you should definitely catch in concert in one of the alternative clubs in Bucharest. Their music is a unique live experience, as is their show, hitting your mood with uncensored artsy vibes. Hard to define in terms of music genre, which is good, Poetrip is a creative band in terms of sound, words, emotions. Experimental, hunting, direct, sometimes noisy, sometimes dreamy, sometimes disturbing, sometimes alien, sometimes frustrating, always catchy.
We asked the band to fill in some blanks in our head, which they did – Oana (vocals & keyboard), Stefan (guitar & bass) and Andrei (bass & guitar). Alex, the drummer, was not part of our silly game, but you can still find him in the big picture. By your next visit to Bucharest, like Poetrip Facebook page and listen to the band on Soundcloud.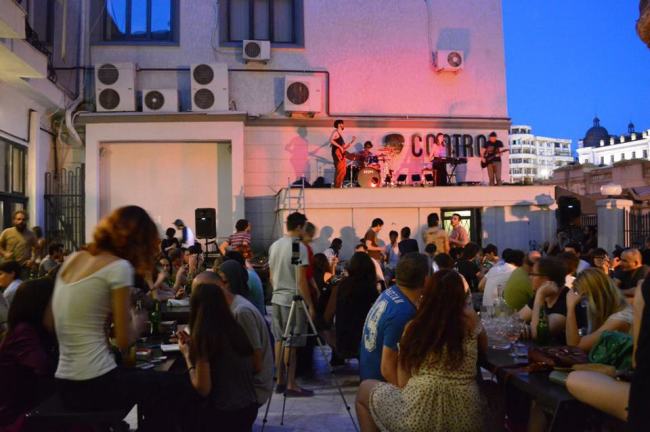 BT: What is your story on this earth? God made you or are you here by natural causes?
Stefan: God "is here" by natural causes.
Oana: When I see God, I'll ask him. He's supposed to be omniscient.
Andrei: I am pretty convinced I am the product of sex.
BT: Poetrip "scratched out" in concert almost all the cool venues in Bucharest. Are you a cool band?
Oana: I think to be cool is to be true, to be honest and real. So yes, that probably means we're pretty cool.
Stefan: We're true and we're cool with that. So we're supercool.
Andrei: I suppose you have to be a little bit eccentric to last through an entire show.
BT: You were often associated with the underground movement in Bucharest. How comes?
Andrei: It's probably because of the cheap instruments. We don't have money for glamourous ones.
Oana: I have no idea how this music machinery works.
Stefan: Simply because we have nothing in common with the mainstream. And being in underground doesn't mean for us that we are mainstream wannabes. It's a good thing that the underground exists, it means that things are happening. Before '89 any artist who was not accepted officially had a tragic fate, he was banned or sent to forced labour for life. I can say now that we are free to do exactly what we wanna do – and I enjoy that.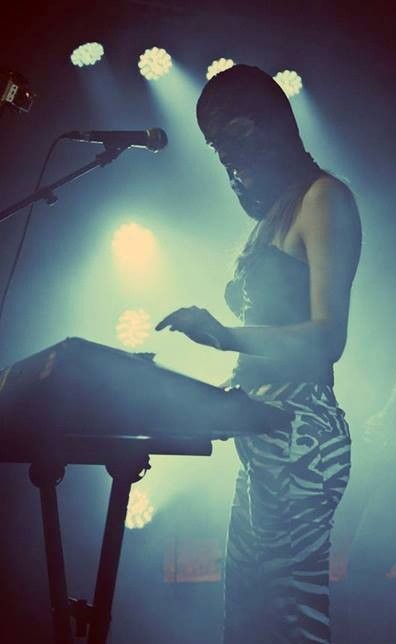 BT: We know it is difficult to drag a genre out of your music, however, apart being DIY and experimental, how is your sound? Imagine you need to sell it to an audience today in order to pay the rent tomorrow. What would you say?
Andrei: I really need some money to pay my rent tomorrow.
Oana: Our music is continually changing, as I wish to all of you. We're lucky to have enough music genres for everybody.
Stefan: It's FREE! Freestyle Freethinkers.
BT: Who's the poet tripping when writing your lyrics? Tell us about the "trip".
Stefan: I write the lyrics for the instrumental tunes, and Oana writes them for the non-instrumental ones. Oh, I also get to choose some of the names of the tracks. Does that count?
Oana: Truth, vulnerability and self-irony are my favorite drugs. (Almost). It's hard to be honest, it's hard to allow yourself be vulnerable and it's hard to make fun at yourself, so when you overcome these fears, you feel high as fuck.
BT: You sing in Romanian; what are you talking about in your songs? Is this connected somehow to (your) life in Bucharest?
Andrei: Again this is a question for Oana. But I don't think the lyrics are related that much with Bucharest. Many of them seem of a rural provenience.
Stefan: It is very connected with our life as human beings. Anyway, not all of our lyrics are in Romanian, we have a few songs in English: "Fear", the first song we did, "Lover", which we never played live and never will, "Gutter," "Haunting", "No Mayonnaise", "Welcome to the (Crazy Mountain) Party" and our latest song: "The Thinker of Tender Thoughts".
Oana: It's connected to life on this planet. The life of children, of adults, of homeless people, of squirrels, of birds and dogs. It's about everything we all have in common, us and strangers, us and our enemies.
BT: Are you hipsters or punks? Why?
Andrei: I think we're too lazy to be either.
Oana: Our aggressiveness is more of the intellectual and emotional kind, it's not physical. So I suppose you could call us hipster punks. But I'd rather you didn't.
Stefan: I couldn't fit into a certain category or another so I started my own band, only to be asked again: "what exactly are you?"
BT: When and why it's best to listen to your band: in the morning, in the afternoon or at night?
Stefan: In the morning after a white night.
Oana: I hope our music is usually listened by people who don't really know and don't really care about what moment of the day it is.
Andrei: It's still weird to see people listening to our songs at home in the first place.
BT: What are your parents saying about your music? Does it pay a living?
Oana: They say they like it. Either I underestimated them at the beginning when I thought they wouldn't understand it, either they haven't heard the songs against the church or about porn yet.
Andrei: My dad was at one of our concerts in Control. He was very surprised afterwards that somebody actually paid me for what I just did.
Stefan: Well, they surprised me: they take me seriously. At the beginning they were worried that I would lead a vagabond's life while making stupid noise that I call "Art". But their life philosophy is that everything on TV must be taken seriously, so thanks to Apropo TV show that invited us, now our parents respect our way in life. I don't know how long this could last, I hope it will pay a living before we die.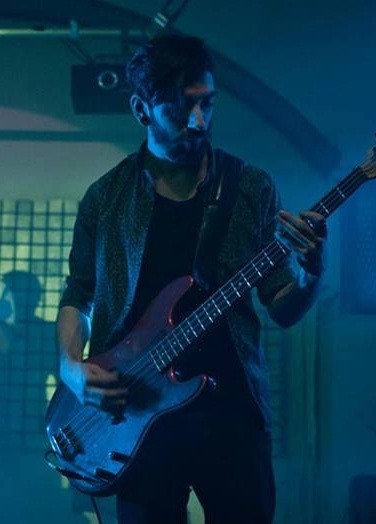 BT: When is your next gig?
Andrei: Stefan has the Excel list with all the concert dates.
Stefan: 6 feb. Molotov, then 28 feb. Panic
BT: What is your latest music project?
Stefan: A year ago, me, Oana and some friends started a second band, a project called Fanfara Extraterestra. We already had almost 20 shows.
Oana: It's based on improvisation, it's mostly electronic, but sometimes acoustic. The members' number is different for every gig, depending on each musician's time. It can be five or it can be twelve.
Andrei: Public Servants (with Andrei Crăciun).
BT: How do you feel as a musician in Bucharest?
Stefan: Our last 2 years here were really above any expectations.
Andrei: The free drinks are nice.
Oana: It's fun. Sometimes tiring, but mostly fun. There's a lot of people here hungry for new sounds, new artistic movements and this inspires me to go further and further.
BT: How would you describe the artists' community in Bucharest?
Andrei: Poor.
Oana: Silly and immature, with all kinds of ego issues. I don't want to sound too critical, I know we all have our issues. But for fuck's sake, if you can't relax and let go of your ego and feel good with yourself and connect with others in a healthy way, why bother be an artist?
Stefan: It seems like it's Everyone for Himself. The few who are different became our friends and bandmates when we met. One other project of ours is CONTRAPUNCT, a series of free improvisation sessions open for everybody all night, and it's a experiment of sharing, listening and playing.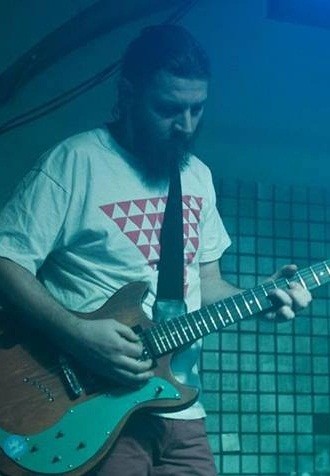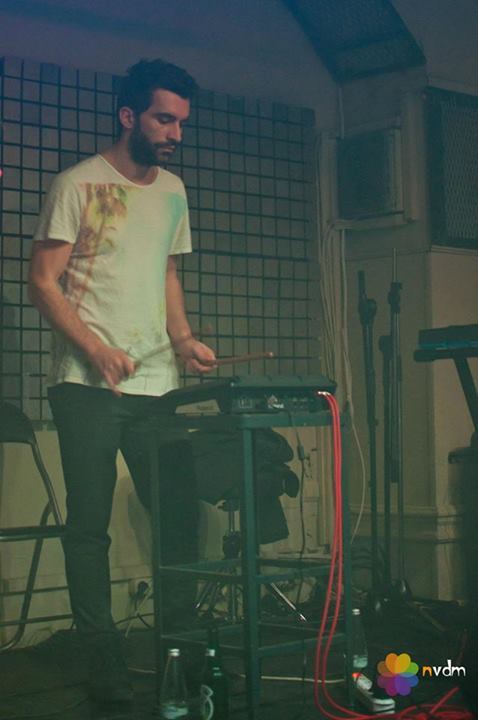 BT: What is your opinion on the current Romanian music scene? Do you particularly appreciate the works of (a) certain Romanian artist(s)?
Stefan: I think that the current Romanian underground music scene is more mature and better than ever. Karpov not Kasparov, Future Nuggets, Sinboy, Coughy, Abator Industries, Avant'n'Gard, Fierbinteanu, Lights Out, Peripatetic, Khidja, Bogman, Fratele Nord, Brum, Cercul Intreg, Saşa-Liviu Stoianovici, Mes Quins, Brazda lui Novac, Plurabelle, Matze, K-lu, Homeboy, Febre39, Kaleidonescu, Nava Spatiala, Polul Nord, Nerub...
Oana: The Romanian music scene is fresh and it's getting fresher. I feel things are moving in the right direction right now. I like a lot what Karpov not Kasparov are doing, I listen to their music very often at home. :) I also like those kids from Cluj, Lights Out, they sound really good and they're smart and fun. I like Steaua de Mare, Fierbinteanu, Jazzadezz and Bog's crazy remixes. I like Ada Kaleh a lot, I've seen her about a month or so ago in Control, it was an inspiring show.
Andrei: I, of course, like the music of all my friends, it would be rude to say otherwise.
BT: What is in your opinion the best music festival in Bucharest / Romania?
Stefan: Street Delivery & Soundczech / Fân Fest & Waha
Andrei: I don't really go to festivals, except when they're not in Bucharest so there will be a little traveling/vacation time involved.
Oana: I definitely prefer the festivals outside Bucharest. We played at Waha Festival last summer and I loved it there. Great lineup and sound at all stages, lovely landscapes. I also loved the time we had at Durușa Festival in Maramureș. Waha and Durușa are both young festivals, but they're much better than the majority of the well-known festivals.
Oana, Stefan and Andrei also gave us their insights about Bucharest, favourite places to eat, to drink, to dance as well as cultural tips. Learn and Enjoy!