Public space in Bucharest and in Romania is in its early age. Still. Real town planning doesn't exist, as corrupted politicians cashed out to demolish, crush and alter historical monuments, streets, buildings and public spaces. The citizens are witnessing the tearing apart of their city, but they were used to KEEP QUIET and stay away - the bitter inheritance of the communism. Though, efforts of certain artists, architects and NGOs exist - to build a new urban conscience, to use this public space as a ground for breaking the silence.
Ioana Ciocan is a visual artist and the initiator and coordinator of art in public space programs Proiect 1990, S P A M and curator of the Sculpture en plein air at Aiurart program. She also works as Assistant Lecturer at the National University of Arts in Bucharest. She is committed to SPEAK through her art and art projects.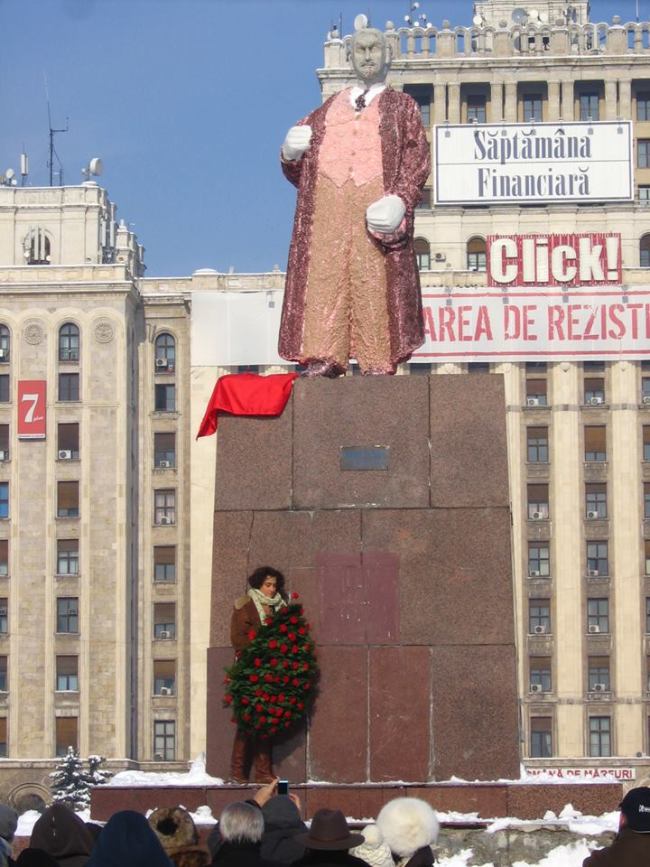 BT: One of your latest projects, SPAM brought contemporary artists and artworks in Bucharest's Carol Park. From the intimate/secured/inner-centred space of the gallery, your SPAM Copy/Paste initiative switched the process of art making towards the public space. How does this shift change the perspectives of the Romanian artist/artwork? Is art becoming more "popular"? More socially engaged or political as the result of the interaction with the agora? Is SPAM also a "cultural spamming" to some extent?
IC: The call for artists for SPAM was entirely promoted through SPAM Facebook page and had 42 participants. It is a fabulous number if you think of it, as the "public calls" for artists organized by the authorities most of the times have…one participant. So, SPAM indeed created a real community. The first edition of SPAM had a clear theme copy/paste and I think this theme was enough to create a reaction in the artists who participated at the open call. The art in public space becomes more popular among the young artists, who had a unique change of public in Bucharest through SPAM and Proiect 1990. This seldom happens as the art in public space is dominated by 2 or 3 names, bronze and populist themes. Public art should be a clear and peaceful form of protest, a social attitude. The artists should provoque the public to mentally engage in social issues. Still, art in public space created with no financial interest in the city of Bucharest is still…spam.
BT: You are trying to establish a Museum of Communism in Bucharest. 20 years after Lenin's statue was removed from the Free Press Square in Bucharest you started Proiect 1990 (Project 1990), replacing the missing statue with contemporary artworks. The works of several artists present in this project, including you, marked the absence of Lenin's statue on the pedestal with contemporary art referrals to communism symbols, whilst others criticized the post-communist life. Was Project 1990 meant in essence to support your endeavors for the above-mentioned museum?
IC: The museum that I intend to establish is going to be more of a Golden Age Museum, an interactive Museum of Ceausescu's Communist era (1965-1989). I started Proiect 1990 in January 2010, so for 20 years the superb granite plinth remained empty. All of the nineteen artworks that were part of Proiect 1990 (until January 2014) made statements about social situations before and after the Romanian 1989 Revolution. I believe that there is a close connection between our present behavior as citizens and our communist past. The struggle for basic needs, the lack of freedom of speech etc. can still be observed in the Romanian behavior today. This is exactly what I would like to show in the Golden Age Museum: an anthropological interactive observation of life during those times.
BT: Your works restore somehow a kind of a twisted Propaganda Art, using contemporary medium and language. This socio-political engagement led to several art installations criticizing the Romanian post-Revolutionary society, where the totalitarian regime was replaced by the regime of money and power, aka Corruption. What were the metaphors you used and why do you think it is important for an artist to deal with this side of art too?
IC: I see a lot of corruption everywhere. I am tired of it. And I am tired of the lack of respect that people with (lots of) money have towards the regular citizens. It is a sad society and I will keep on criticizing it. For my Trei culori cunosc pe lume (Three colours I know in this world) installation I used marzipan in the Romanian flag colours, sweets and worms. This was what I felt: that the country is devoured by worms. And for Plai natal, grădină-n floare, exhibited in 2013 at MNAC I constructed the Romanian map out of coins of 10 bani. And then I invited the public to take the coins if they choose too. The message was clear, everybody steals from Romania, but they can choose not to. The time of nice flowers in a vase ended centuries ago, and if one carefully looks, I believe that nice flowers in a vase were never the message but the medium.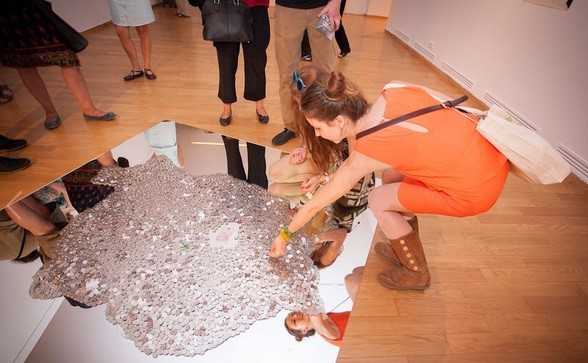 BT: Bucharest is, at some geo-political extent, the symbol of Romania, its visit card. What is your relationship with the city, both as an inhabitant and as an artist?
IC: Well, two years ago I sold my car: I was getting tired of the lack of parking spaces, the bad roads, the crowded intersections and the big-big-big cars who rule the roads (by the way Ninel by Virgil Scripcariu, part of Proiect 1990, was about this topic as well). So, I hate that part. It is difficult to live in Bucharest. But I love Bucharest because of Proiect 1990 and SPAM: it is the only city where this art in public space programs could have existed in this specific form.
BT: People in Bucharest tend to forget they own the city as citizens and their voices together can contribute to the city's development and well-being. Do you think this changed a bit since your "Sweet Bucharest" work in 2010, considering the large protests for Rosia Montana for instance? Did Bucharest inhabitants start "eating" their shares of the city?
IC: I hope Bucharest will have a louder voice! This fear of possible consequences if one protests is an ugly communist left over. Too bad that this is not the fear of politicians, who believe nothing can touch them. Roșia Montana changed things of course. Costin Ioniță created Miorița for SPAM in Carol Park and Ileana Oancea created RM for Proiect 1990. Both of them were created for Roșia Montana. So these two Bucharest inhabitants are already eating their share of the city.
BT: How do you feel about the art education in Romania? How important is such a formal education for an artist in 2014?
IC: I believe in an education where we listen to the students and where we are changing to meet the students' needs. The Romanian educators should ask themselves what the students want to learn, not what we want to teach the students. The university is not about the teachers, is about the students. Education, formal or not, must provide the environment for personal growth.
BT: What/when is your next art project/show?
IC: Right now, I am closing Proiect 1990, and I am preparing a catalog for it. The second edition of SPAM is opening soon, and I am hoping for more participants than at the first edition. As for my own art, I am working closely with the independent curator Olivia Nițis for a solo show.
BT: How do you feel as an artist in Bucharest?
IC: Lucky! Proiect 1990 will turn 4 on January 26th, and I know it made a difference on the art scene. Art lovers from UK, USA, Israel, The Netherlands, Germany and Argentina contacted me and wanted to find out more about it. I have a waiting list of artists who wish to exhibit for Proiect 1990 in 2014. I am a bit sad that not everybody will have a chance to be part of it.
BT: How would you describe the artists' community in Bucharest?
IC: Small. Still small! Everybody knows everybody. We are separated, of course, in a few distinct communities, based on artistic preferences. The young generation stopped fighting the communist dinosaurs from different public or independent institutions, and it is focusing on the important issues of their practice.
BT: What is your opinion on the Romanian contemporary visual art? Do you particularly appreciate the works of (a) certain Romanian artist(s)?
IC: Gorzo is on top of my list. Dan Perjovschi, as well.
Ioana also answered some questions about her favourite places and things to do in Bucharest, you can read the mini-interview here.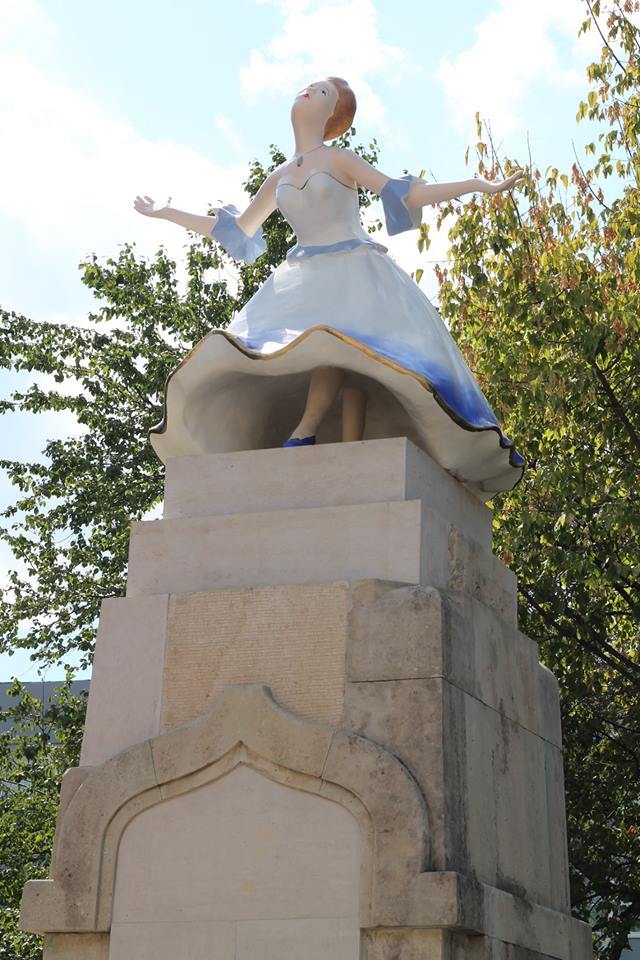 Ileana Oancea, Countess - SPAM Copy/Paste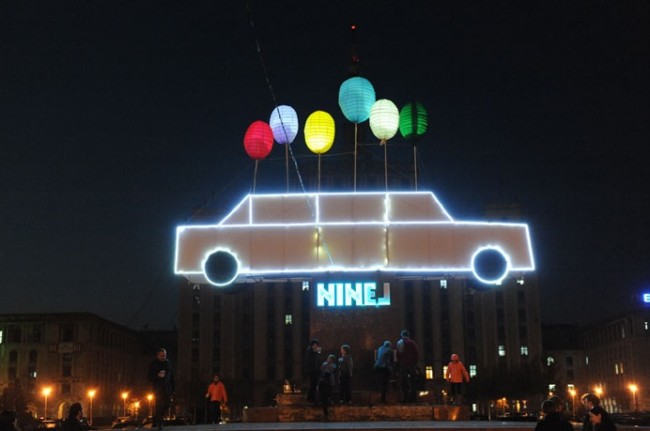 Virgil Scripcariu - "NINEL" - Proiect 1990