From the young photographers framing Romania and Bucharest in their photos we chose again an artist who was not born here. We discovered Michele Bressan in the 2000s. His works depict Bucharest's life in a very personal manner, distant and involved at the same time, as the attention he pays to things others don't notice transforms them into original, alternative visions of the city we live in. His photographic series retrieve moments of unimportant events or lives, usually considered dull by the passers-by. He also looks at the other sides of the history, "staging" without props, only with the help of his camera, of the small details of the reality or of the wider picture of it, social or economic events usually not bearing any kind of "poetry": a national programme of recycling used cars, the gold "war" of Rosia Montana, the development of new blocks of flats in Bucharest's deserted outskirts. We loved his work, shared his vision of Bucharest and still do it. Lately, Michele was involved in other art projects outside photography, but we kind of stick to this latter medium for our interview. Now in his thirties, Michele Bressan agreed to answer our 10 questions about his works and also gave us his insights about living in Bucharest.
For those who want to find more about his art projects, there is a lot to be seen on his personal website - http://www.michelebressan.ro.

Your photographs are impregnated with the sense of loss, often easily translated as personal loss. It is the honest yet never candid image of an analogical reality which creates continuous functions with different values in time, not getting old, but altered. How do you create this feeling, does the message impact the medium or is the medium the message itself?
I don't do anything special in order to increase the sense of loss. I just follow an aesthetic instinct that matches with my zone of interests, and that's what comes out. I don't stage or intervene on the scenes, the images are composed by elements accessible to anybody, there is no alteration. I was told several times about this sense of loss, but I truly believe that it is more a sense of awareness. All our life is accompanied by the presence of loss, so for me it is more a process of acceptance, sometimes of illustrated resignation.
It's not important to lodge on the choice of a digital or analogic workflow. The strength of the medium exists in the nature of the photographic image: a freezed moment, an invitation to contemplation. If a painting is unique by its nature, because two identical copies can't exist, a photography is unique by the unicity of the captured moment, because there won't be another identical one. Having the possibility to reproduce exactly almost everything, the photographic image becomes a pin, or a hook.
You have once said: "I like to consider myself an anti-hero in the domain of photography. I like to pay attention to things that nobody pays attention to, I like common places, I love the backstage of reality." What is that you discovered, as a photographer, in the backstage of Bucharest since 1993, when you moved here?
Even today I would say the same, probably in a less theatrically form. Somehow I think that a great part of my work was realized before 2006, when I started to photograph. Since childhood, I developed an exaggerated sense of observation, so, since the beginning of the '90, when I permanently moved here, I had the occasion to adapt to a huge new imagery. At some point I started to photograph because I felt that photography would be the easiest way to index a stream that accompanied me anyway. As an observer I discovered an alternative. I was born in Trieste, in the northern Italy, which is like a bourgeois Twin Peaks, but without any kind of action or mystery. Is the town with the world biggest rate of older people. In Romania I had the occasion to experience continuous contrasts, an aspect which became part of my work's engine.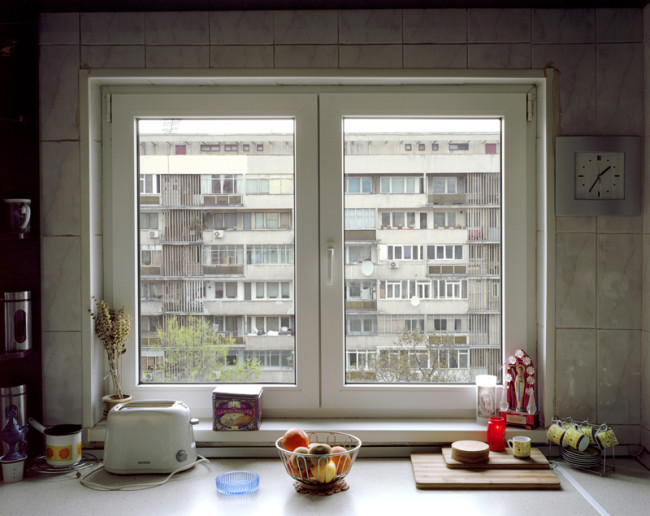 Working with snapshots of the Bucharest's common details, such as your "Familiar views" series which displays the grey landscape of the communist blocks from inside out makes you an observer, a subject or an historian? Is this at least partially your personal history?
Each one of us is an observer, and someone else subject. Our life is a timed history framed by subjects. The historian and observer roles are gained by default. Nowadays I ended up considering myself more of an evaluator, that, by publishing his results, incite observation. There is a lot of personal history in my work, but it is never explicitly shown or explained, it would be boring. I prefer to let the things blend in a bigger picture, that becomes familiar. For example, in the ''Familiar Views'' series I don't search for apartments from which the views are composed exclusively by other blocks, in order to reinforce the discussion around the communist landscape. I recorded the scenes from the apartments in which I had access, randomly, without avoiding some of them because the view was too positive for my taste.
I remember a black and white post-industrial landscape which made me empathize till sadness with a bunch of abandoned ironed reinforcing bars, softened by their solitude, under a big, ruthless sky. Sounds strange indeed, but you made it happen. Do you anticipate the emotions of the viewer? Are those important for you?
I can't anticipate reactions, but I hope that, among many possible interpretations, the viewer will also intuit the reason that made me choose a specific moment or subject. By working on the everyday, I let open the possibility of empathizing and relating to a bigger, common picture. If I were a war photographer, or if I were documenting a community of penguins, you would be looking at a distant reality, known only through the media (and mediums), but not directly.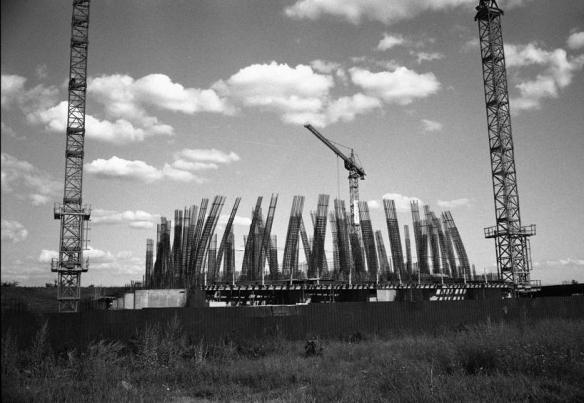 You have used Casa Poporului (Ceausescu's palace) in Bucharest as the referral of the "Generation loss" video project. Was this a protest too against a designated symbol of the deceptions currently experienced by the generation expecting changes after the Revolution on 1989, as the building is now used by the Parliament? Are your works political, at some extent?
The project initially started as an aesthetic comment, a way to deconstruct a national visual failure and drag it in a more experimental interpretation. The process of the image's deterioration, which happened to be named ''generation loss'', comes also from the everyday, being a particularity of the VHS medium. Yes, in this case the medium has a bigger role. Even if initially the work wasn't ''politically charged'', I was aware of the other possible interpretations. The video was made in collaboration with Larisa Sitar.
You work both with photography/video art and installations/objects. How did you ended in choosing those media to express yourself as an artist? Was it a sort of "progression" from one medium to another? If so, what made it happen?
Only recently have I felt the need to experiment with other solutions, like objects or installations. For years I focused only on photography, gathering in the same time ideas for different types of work. I think that when you become comfortable with a language, you could become interested in another one, also.
What is your latest art project?
At this moment I don't have a new outlined project, I'm working mostly on ongoing projects, like searching for windows to continue the ''Familiar views'' series, and some objects, including porcelain sculptures.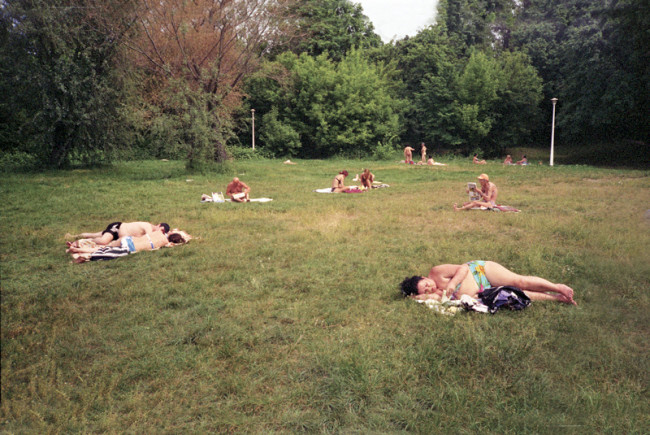 How do you feel as an artist in Bucharest?
That's a tricky question, because I really don't consider myself as an artist. I consider the artist's tag something that's assigned to you from the outside, that's how some could consider or perceive you. So I think that it would be fairer to ask others about how they feel me as an artist. I must confess that I always considered this tag a bit goofy, and ambiguous, especially when it comes to Romania and the general understanding of this term. Unfortunately we're living times in which the common sense is being shaped violently and wrong, like the ''creativity'' issue. Nowadays everything has to be creative, related to creativity or liable for creativity. There is an excessive use of this term, which, by its permissiveness, ends up to passing as good a lot of shit.
How would you describe the artists' community in Bucharest?
Hermetic, evolving, scared, smug, capable.
What is your opinion on the Romanian contemporary visual art? Do you particularly appreciate the works of (a) certain Romanian artist(s)?
I think that it is a moving scene, in which the things are starting to change and adapt to a more contemporary way of producing and understanding art. There are new groups of young Romanian artists internationally recognized, like the painters from Cluj. There are others, less known, but with a predictable future, in a good way. I won't give names, but I suggest exploring the contemporary Romanian art scene, which overall is a short reading.