We will not say again what has already been said, about hipsters saying about themselves they did not fit the category of hipsters. We'll speak instead about things they do in Bucharest – a minute portrait, both serious and playful :), of the young crowd fitting the worldwide stereotype of "hipsters", locally adjusted.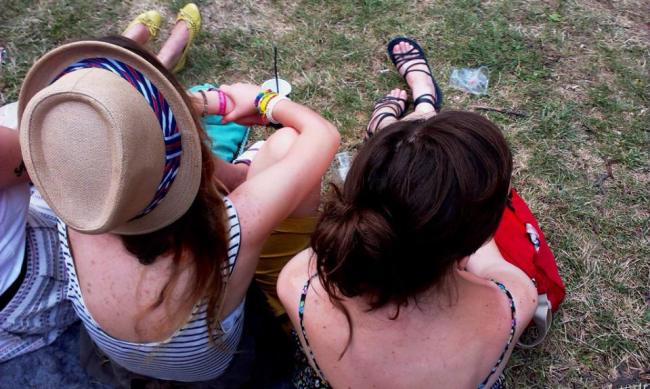 Bucharest hipsters are creative, open to new experiences, trying to break the old rules and the social taboos of their parents - they belong to the first generations born after the fall of communism in Romania. Bucharest hipsters are socially engaged, generally (slightly) leftist, fighting for the environment, the civil, human and animal rights; they are art makers or at least art consumers, they like to socialize with their peers, so they hang out in the same places, where they know (almost) everybody, they usually listen to alternative, punk or electronic music (or a combination of those genres:) , they dress differently than 99% of the Romanian population, but they do conform carefully to the Berlin/NY/London hipster dressing principles, with a touch of Romanian young fashion design.
Here are some 25 things hipsters generally do and like in Bucharest. To some extent, you are not really a hipster in Bucharest unless you:
play music at parties/clubs as a DJ
have your own, easily recognizable "brand" of street art, either stencil, tag, graffiti or sticker
are a member of an underground /garage band
do handmade fashion accessories or design objects
run an underground art gallery, theatre in your flat (half-private parties, DIY workshops, cooking shows etc.)
carry a professional camera, always taking photos at the alternative events (and documenting what other hipsters do :)
write for an obscure, alternative urban magazine which tomorrow will be the new ideological/ fashion/ style trendsetter
have a bicycle, and go skirt-biking
live in an old building in downtown Bucharest, half IKEA/ half vintage
join actions and protests for Rosia Montana, Vacaresti Delta, Hala Matache and generally for green and urban planning causes, the minorities' rights, stray dogs, bicycle lanes etc., always gathering in Universitatii Square and fighting against the government's bad decisions
drink unfiltered or ginger beer (or any kind of beer:) at Dianei 4, Atelier Mecanic, Acuarela, Londophone, Fabrica, Clubul Taranului etc.
eat "organic" French fries at Energiea (with garlic dip and salads), evening soups at Ota's, pasta at Shift, pizza at Interbellico's feel-like-home bistro, traditional "mici" in Casa Universitarilor's large garden downtown Bucharest
attend Pop-Up Dinner special culinary events at least once
hang out at night in Control, Eden, Colectiv, Carol 53, Ota, Silencio, BEAT Bar Umanist, Molotov, Baraka etc.
check the latest contemporary art shows at Aiurart, Pavilion, MNAC Annex, Galeria 26, Imbold, Electroputere, WASP etc. or in pop-up galleries
buy vintage and second hand clothes to create the most uncommon outfits (and wear them)
go to queer parties, Roma concerts and ethnic cultural events
participate at Street Delivery (at least as a visitor)
attend to alternative music festivals near Bucharest, such as B'estfest and Summer Well in Tunari, Mogosoaia, Stirbey, or electro parties and festivals in Bucharest's woods and private houses
go to poetry readings at Tramvaiul 26
buy books at Carturesti bookstore and read them in Café Verona while having a tea or a lemonade
go to cult movies and film festivals at Cinema Studio, Cinemateca Eforie, Union, Elvira Popescu and NCRR
have a coffee at Coftale, Camera din Fata, Lente or a tea in the hidden tea gardens of La Metoc, La Vlaicu, Infinitea, J'ai Bistrot, Ceainaria 5 or Serendipity
buy young Romanian designer fashion clothes and accessories (especially during dedicated events which take place monthly in Bucharest)
own at least one printed cotton bag, with a social message or displaying a cultural brand (usually from a film/book festival or an urban fest)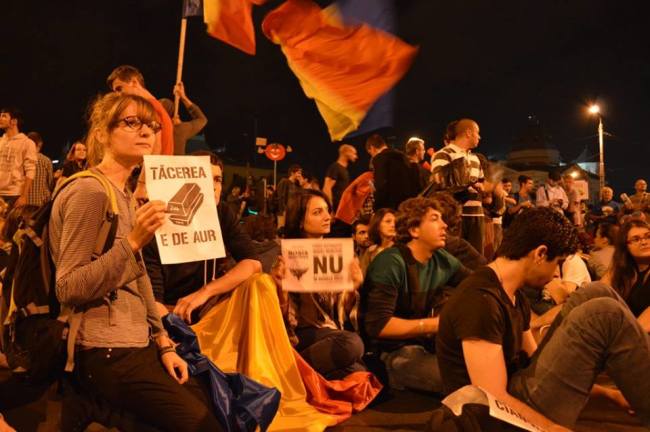 In Romania nowadays, "hipsters" are the ideological descendants of the "hooligans" who made the Romanian Revolution of 1989. Both terms were used (though the "hipster" is quite recent and yet uncertified by the history) as referrals by the dominant cultures and the power (government directly or through government press).
Being a hipster in Bucharest is a burden – you have to be corky and serious at the same time. Frivolity generally associated with the pejorative sense of the term doesn't match its socio-political connotation. They all mock the hipsters as being trends addicts, so it looks like the latest trend in Romania is the revolution for the civil rights. Not bad for a hipster, huh?