A recent study considering the cheapest airlines in Europe has designated the Romanian low-cost airline Blue Air as third cheapest in Europe, being overrun only by Pegasus Airlines and Wizz Air.
The giant low-cost Ryan Air (not yet flying to Bucharest) has positioned on fourth place, being followed by easyJet, another big low-fare flight operator, which recently announced its come back to Romania, starting 17th of October 2013. easyJet, second biggest low-cost European airline (overrun only by Ryan Air) currently operates flights to Bucharest, Romania from Great Britain's London Gatwick. easyJet flys to Bucharest four times a week, on Mondays, Thursday, Friday and Sunday. The study took into consideration the prices for more than 300,000 flights in the period October-November 2013.
Blue Air is the biggest Romanian low-cost airline operating flights from Bucharest Romania. If you plan a trip to Bucharest, you may be interested in finding that Blue Air is currently operating cheaper flights to Bucharest from Great Britain (London Luton), Ireland (Dublin), France (Paris Beauvais and Nice Cote-d'Azur), Spain (Madrid Barajas, Barcelona El Prat, Valencia Manises and Malaga), Italy (Rome Fiumicino, Milan Bergamo, Naples, Bologna Marconi and Catania Fontanarossa), Germany (Stuttgart) and Belgium's Brussels.
However, Wizz Air offers the largest number of destinations flying to Bucharest with low-cost fares. Wizz Air, the largest low fare - low cost airline in Central and Eastern Europe, flies to and from Bucharest Otopeni airport and offers cheap flights to Europe's Spain, Budapest, Germany, Italy, France, Netherlands, Norway, Switzerland and Cyprus. So check Wizz Air flights to Bucharest from London (Luton), Paris (Beauvais), Brussels (Charleroi), Dortmund, Eindhoven, Geneva, Barcelona (Girona), Madrid, Valencia, Zaragoza, Rome (Ciampino and Fiumicino), Milan (Malpensa and Bergamo), Turin (Cuneo), Verona, Venice (Treviso), Bologna, Pisa (Tuscany), Perugia, Naples, Bari, Alghero, Catania, Larnaca and Oslo.
If you fly to Bucharest from Germany, then you might consider the German low-cost airline Germanwings, fully owned by Germany's airline Lufthansa, which currently operates cheap flights to Bucharest from Berlin - Tegel, Cologne - Bonn and Stuttgart, actually being the low-cost airline offering the biggest number of flights from Germany to Bucharest.

You can easily find on the destination map below the low-cost routes to Bucharest, operated by the four low-cost airlines present in Romania: Wizz Air (purple on map), Blue Air (blue on map), Germanwings (yellow on map) and easyJet. Please note that green lines means three airline operators on the route, while redish line means two operators on the route.
Another good news is for the Bucharest tourists coming from Serbia, as the national Serbian company, Air Serbia will operate daily direct flights with its own planes from Belgrade to Bucharest starting December 10th 20013, so Air Serbia will compete with Romanian national airline Tarom for this route, hopefully with impact on fares reduction.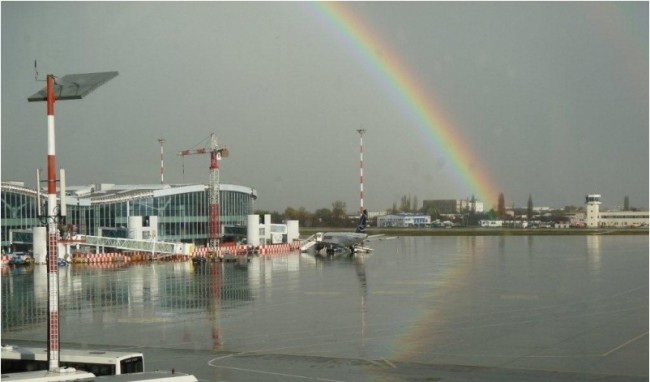 Bucharest - Henri Coandă International Airport (OTOPENI)