Already in Bucharest and don't know where to start your local journey as a tourist in Bucharest?
You may consider sightseeing in Bucharest with the help of the tourist bus line (during spring-autumn), Bucharest City Tour. In less than an hour for less than EUR 6, Bucharest well-known sites are available for a quick glimpse. The 4 special double-decker sightseeing buses (with a capacity of 77 seats) are equipped with audio guides in Romanian, English and French languages with a soon to come option for Italian language as well.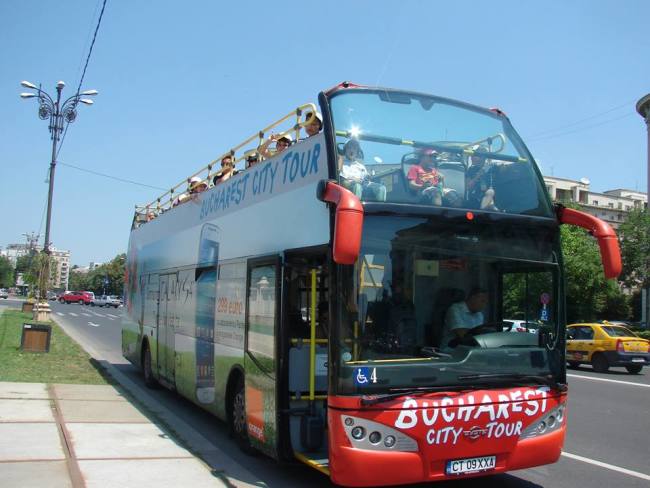 The 14 bus stops of the tour invite you to get a deeper image of the main Bucharest historical and cultural sites, with hop-on and hop-off at any stop. Museums, monuments, the most important tourist attractions of Bucharest, the capital city of Romania, on the following route: Presei Square, Village Museum, Arcul de Triumf, Victoriei Square, Calea Victoriei, Parliament Palace, Unirii Square, University, Romană Square, Victoriei Square, Charles de Gaulle Square, Kiseleff Road and Presei Square.
You can purchase your travel card on board of the buses. The ticket is valid for 24 hours starting from the first validation. This allows the tourists to be flexible when choosing the schedule and the tourist attractions they want to visit.
The time table for the tourist bus line is daily from 10:00 to 22:00. The last bus that leaves from Piata Presei Libere to Piata Unirii is at 21:00 and from Piata Unirii to Piata Presei Libere at 21:25. The time between two buses is approximately 15 minutes and the ride lasts approximately 50 minutes.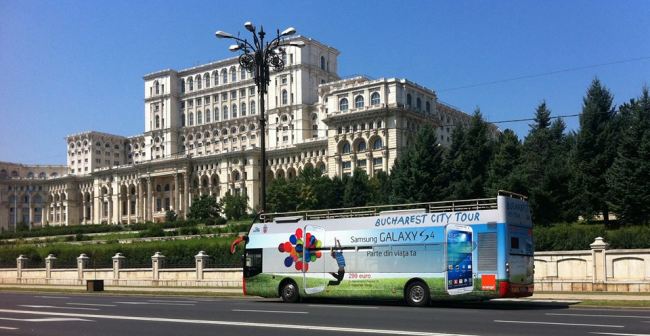 The Bucharest City Tour flyers, which contain bilingual information regarding the tourist bus line, can be found at hotels which have established a partnership with RATB (marked in the blue section on the Bucharest City Tour map) as well as those that offer vouchers for this bus line, the tourist information stands, the airport and main train stations in the city.
The vouchers that are distributed to the partner hotels can be used by the Bucharest tourists already booked accommodations in the Capital for the ride on the double-decker busses, without having to pay the fee when boarding them. In exchange for these vouchers, which can be bought from the partner hotels, bundled with the accommodation charges, the tourists receive the card that is necessary for boarding the sightseeing busses and enjoying the tourist line.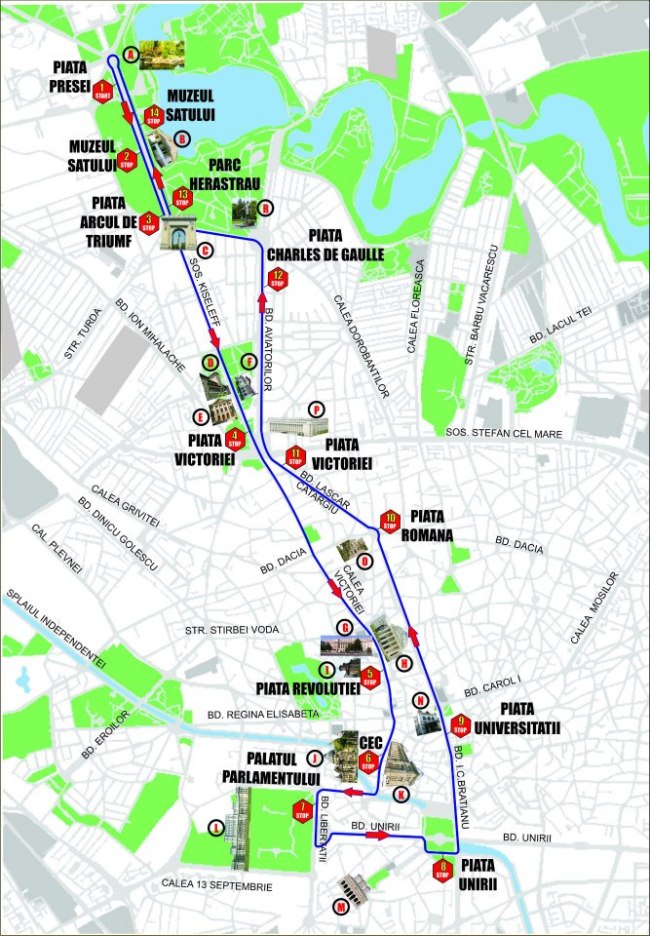 Prices:
Adults: 25 lei
Children aged 7-14: 10 lei
Children under 7 travel free.
Travel cards must be validated upon every boarding.
Have a nice trip in Bucharest!